I'm planning a trip in February, and since I'm having a housesitter stay at my place to watch my critters while I'm gone, I decided it was time to fix up the guest bedroom.
Here's what it looked like on Friday. I'd already pulled down the most recent layer of wallpaper — you can see one piece yet, above the window on the right. The stripes.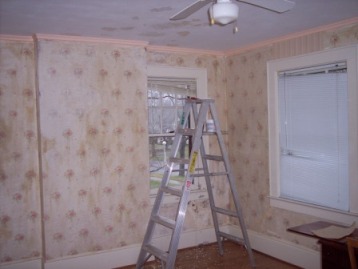 Here"s the room now.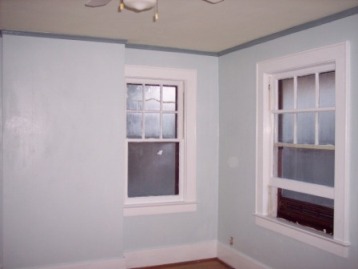 The photo doesn't do the ceiling justice. The color I chose for it is Benjamin Moore Seahorse 2028-70, a very pale green with a hint of yellow. For some reason the photo makes it look muddy; in person it's very fresh & light. (The swatch on the website doesn't look anything like the color either, at least on my monitor.)
The walls are Ocean Air 2123-50, the window trim and baseboards are done with Ice Mist 2123-70, and the molding at the ceiling is Sea Star 2123-30. They're all in the same family — swatches here.
I picked the ceiling color because I wanted something warm to offset the cooler colors I chose for the walls and trim. Now that it's up, I love the effect — I'm crazy about it, as a matter of fact. Particularly against that dark trim — I'm crazy about it.
Next: the floors, which I'm outsourcing ;-)
Then accessories. As I was drifting off to sleep last night I suddenly pictured drapes in a broad, vertical black and white stripe. Hmmmm . . . may be going to much toward Deco tho, we'll see . . .
For beds, I have a twin set of antique art nouveau frames with carved swan heads. I'm a little nervous on them — need to pull them into the color scheme somehow — they're finished in a cream — and unfortunately when I reupholstered the headboards years ago I picked a dark pink fabric — didn't like it much at the time, really don't like it now. It has to go.
Once I have that, the bedding, the drapes, and a rug sorted out, though, I'll post another pic.
[tags] room makeover [/tags]