(Crossposted at Golfolicious.)
Last fall, around the time it got too cold to golf anymore, I was feeling pretty discouraged about the game.
It seemed to me that after a year & a half of playing I should have been getting better. Ha. I was as close to breaking 100 at the end of 2006 as I was last fall. What's worse, my swing was still a mystery to me. I couldn't really understand what made it work or not work.
I'm slowly beginning to understand the mechanics. Slowly because there's so much to it. This is nothing other golfers don't already know, but for a golf swing to work, it has to be incredibly precise. A teensy spot on the face of the club has to hit a teensy spot on that little golf ball at precisely the right angle and velocity. And for that to happen, muscles throughout the body, from the pads of the feet through the core to the fingertips have to coordinate their movements within miniscule tolerances. It's hard.
Or is it? What's been maddening me is that I've always been able to hit the ball well sometimes. Incredibly long straight drives or perfectly gorgeous iron shots — pitches that arc up, drop near the hole and stick. Maddening, because if I could do it once, you'd think I could do it over and over.
Anyway, I finally returned to an old "friend," Timothy Gallwey. I'd read his book The Inner Game of Tennis when I was in high school — I wasn't a tennis player but somebody (was it you, Dad?) recommended it — I applied it (as best a self-conscious teenager could) to my basketball game.
This time, natch, I'm reading The Inner Game of Golf.
Here's an Amazon affiliate link
, so if you want to buy a copy I'll get, um, 15 cents or something.
My copy is the 1981 hardcover edition btw, which means I got this "screamin' 70s" pic of Gallwey on the back cover.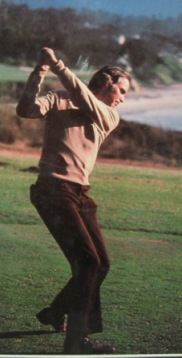 I don't want to write too much about this yet, because doing so might make it harder to apply what I'm learning. But. The basic idea is that for a golf swing to really work there has to be an element of surrender. The "I" self that lives here, on the surface of things, has to take a back seat and allow That Something Else to swing the club.
I managed to do it fairly well on Monday — I played with my folks at Victor Hills East. What happened was almost spooky, in fact. I set my goal as "no more than 6 strokes per hole." For the first three holes I got exactly 6 strokes on each hole (double bogeys on each). I was laughing at myself for meeting my goal so literally.
The next two holes are both par 3s; I shot a 5 and a 4 on them.
It was around the 6th hole that my concentration started to wobble a bit; I began to pay the wrong kind of attention to my game ("oh wow, I'm in the running to break 50" kind of thinking) — shot an eight on 6 and a seven on 7.
And I realized: I just offset holes 4 & 5 so that my average is: 6 strokes a hole!
I bogeyed the next two holes, par 4s, to finish the front with 52 — not great, but a good 10 strokes lower than what I would have shot a week ago.
It didn't last. I lost my focus through most of the back 9, regaining it only on 17 (parred with 3 strokes) and 18 (par 5–bogeyed it). So my overall score was still higher than I would have liked. But I don't really mind. When I took up this game again 23 months ago I did it in part because I wanted a competitive physical activity that I could pursue until I drop dead. But there was another reason: I wanted to apply what I've learned about Mind — learned since I was that self-conscious teen — to an activity that would feed it back to me in near real time. It could have been martial arts or something, but it's golf. Now to see how far I can take it . . .