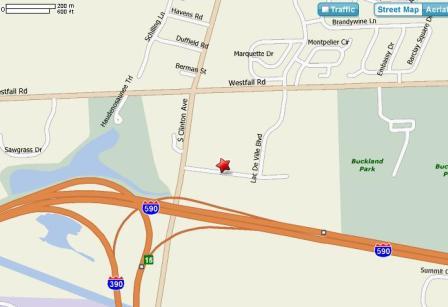 The map shows Senator Keating Blvd, a bit of road south of the Tops Plaza on Clinton Ave. in Brighton.
It tops the list that Chuck Simmons has posted of local pork projects. Price tag for this project: $3.6 million — although I'm not really sure what the money's going for — this description, courtesy of the NYS DOT & published by Stimulus Watch, is laughably impossible to interpret:
From the NYS DOT Website: "According to the Town of Brighton's Master Plan, a road is needed to connect South Clinton Avenue with Winton Road. This road, called Senator Keating Boulevard, would be constructed by others as the development in the area occurs. For all alternatives considered, it was assumed that Senator Keating Boulevard would be constructed by others and be complete by the year 2028. Regardless of which alternative is progressed, development in this area will continue and Senator Keating Boulevard will be constructed as a requirement of the Town of Brighton."
I guess that means the road that we all "assumed would be constructed by others" (those Others! always backing out of their promises!) is now going to be funded by the Stimulus Bill — and as a result, we're going to run Senator Keating Blvd through the back side of Buckland Park — creating a parallel to Westfall through currently undeveloped land? Now, instead of in 2028?
Oink oink oink.
Do go peruse Chuck's list, there's lots more of the same, if you have the stomach for it.