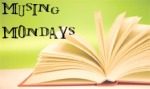 Today's Musing Mondays prompt:
Other than for school, do you read books to learn how to do something? What was/were the topic(s)?
There are a several types of how-to books I read from time to time.
I sometimes pick up books on writing. The most recent standout is Michael Moorcock: Death is No Obstacle, which is a transcript of an interview of Moorcock by Colin Greenland. It's an opportunity to spend some time with a writer who truly "gets it," a real gem of a book.
I sometimes read books on marketing and PR. In this category I recommend Book Yourself Solid by Michael Port, a great book for anyone who sells services or intangibles.
I also read books on consciousness/metaphysics which, loosely speaking, might qualify as how-to books. But since I have yet to, yanno, actually bend a spoon with my mind or something I hesitate to recommend any of them. But I'll be sure to update this post the SECOND I succeed :-D
Thanks for stopping by! And if you need ideas for your To Be Read pile, please check out my novels in the sidebar. When Libby Met the Fairies just got its first Amazon review — 5 stars!