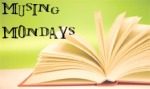 Today's Monday Musing prompt from Should Be Reading:
Are you currently collecting any authors? Why?
Do you have all of their books? If not, why not?
Did you buy all the books in the collection at the same time, or did you buy a book here, a book there? Have you actually read all of the collection? If not, why not?
Currently? No.
But I have done, and when I do I like to not only collect the author but also read things like bios and collected letters.
The last author I collected, for instance, was Evelyn Waugh. I read a number of his novels: Decline and Fall, Scoop, Vile Bodies, Handful of Dust, The Loved One, Helene. (I'd already read Brideshead some years earlier.)
Around the same time, I also read Fathers and Sons: The Autobiography of a Family by Evelyn's grandson, Alexander Waugh. I read Bright Young People: The Lost Generation of London's Jazz Age by D. J. Taylor.
Reading related non-fiction books enriches the reading experience for me, and may even  help me become a better writer.
What is your response to the prompt?