I started Christmas shopping last week. Within a day the UPS truck was finding my door. Then, this afternoon the floodgates opened: a pile of boxes on my doorstep.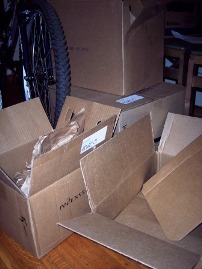 What could be more fun?
I also noticed that instead of just a driver on the truck, there was a second fellow whose job it was to distribute the packages. Kind of like Santa navigates and his right hand man negotiates the chimney.
That's the first time I've ever seen UPS do it that way.
Is it a coincidence that deliveries of my Internet orders seem to be happening faster this year than last? Do you suppose UPS has tweaked its processes so it can better meet holidaytime demand? Do you suppose online retailers are doing the same? Do you suppose the Internet shopping infrastructure is blossoming into a thing of glorious & unprecedented consumerist beauty?
Dunno, but I can tell you I LOVE shopping online. I'll go out and shop in person for a few things this year. But Internet shopping is heavenly. You can compare prices with the click of a mouse, find neat things without having to schlep around the space time continuum AND you get lots of visits from shipping carriers. What could be more fun?
This is going to be the best Christmas EVER.
:-)
[tags] Christmas shopping [/tags]