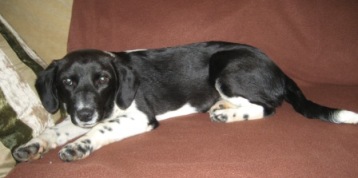 What you can't really tell from the picture is how tiny she is. She weighs 20 pounds.
She's about 6 months old–she has her adult teeth.
She came from a kill shelter in Ohio with two litter mates and her mom. A Beagle-Lab mix.
I'll post more about her soon but at this point I'm too busy pinching myself. I never thought I'd luck into such a sweet thing so quickly . . . I thought when I submitted an application (to Black Dog, Second Chance, a local rescue organization) I'd be put on a waiting list, behind all the other approved applicants looking for dogs, and have to wait . . . But the fact is there are so many like this little girl who need homes, they were thrilled to give me first dibs on her . . .
[tags] dogs, animal rescue [/tags]