I have just bought a new digital camera. Needed because I wanted something compact to take with me on my trip to London next month.
I debated which brand to go with; after reading a number of praise-filled reviews like this one, I decided on a Canon SD600.
Image quality was the overriding factor, a priority I learned with my last digital camera. The one before it was a Kodak LS443, which I loved. Its replacement, however, burdened me with a couple of irritants. It has a detachable lens cap, instead of a lens cover that opens and closes when you turn the camera on and off. If you forget to remove the cap, it's catapulted onto the ground when you turn on the camera (by the telescoping of the lens). (The cap has a strap but nothing to attach it to — it's too short to comfortably reach the hook for the camera's wrist strap.) Not to mention I'm continually putting it down and then having to remember where I left it.
More damning was the image quality, particularly a color distortion that crops up all too frequently in constrasty images.
Compare that to this, taken with my old LS443:

When I zoom no this one I can see some very slight fringe where my sister's teeshirt sleeve is juxtaposed against the lilypads; even at this size you can see a little purplish cast on the shirt itself, but it's not nearly as pronounced.
I didn't know this was called purple fringe until I started researching my next camera purchase. Turns out it's not that uncommon. And while it's partly due to the properties of light (a messy substance if there ever was one!) "Most of the problems seem to be as a result of individual camera designs."
So. Here's a shot out my back door with my old camera this morning: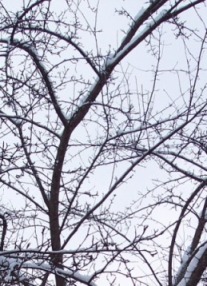 I didn't get a pronounced fringe but you can see the purplish cast. Here's the same view, with my new Canon: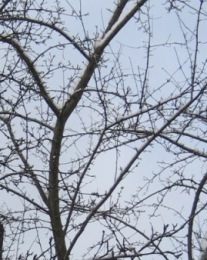 Needless to say, I'm thrilled.
Next step: a digital SLR. But that can wait :-)
[tags] digital cameras, purple fringe [/tags]