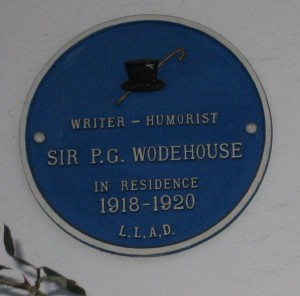 I adore Wodehouse.
I appreciate serious novels, of course. I love novels that tackle Big Questions, and when they're well-written I find them transporting.
But I also adore humorous fiction, and Wodehouse is by far my favorite humorous fiction author. It's partly the language — I'm a total Anglophile — and perhaps it's also that we've got those Butterfields and Lydiards in the family tree but I so appreciate the English sense of humor as well.
No surprise, then, that I view him as a writer to emulate — so much so that when I was starting my novel Can Job, I spent some time studying the Wodehouse novel Leave It to Psmith to understand how he put novels together.
I did thing like count how many characters he uses, and created an outline of his plot to see how he handled pacing.
Learn from the best, right?
Now I discover this gem: an article online where Wodehouse passes along some tips for writers!
They are fantastic tips as well. Here's a taste:
[A]lways get to the dialogue as soon as possible. I always feel the thing to go for is speed. Nothing puts the reader off more than a great slab of prose at the start. I think the success of every novel – if it's a novel of action – depends on the high spots. The thing to do is to say to yourself, "What are my big scenes?" and then get every drop of juice out of them.
He also says this, in answer to a question about what makes a story funny:
I don't think a man can deliberately sit down to write a funny story unless he has got a sort of slant on life that leads to funny stories. If you take life fairly easily, then you take a humorous view of things.
All in all a delightful little read. Many thanks to Abe Books for putting it online!