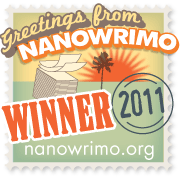 So I "finished" my NaNoWriMo project — working title, Dr. Forst — on Sunday. That's three days early, for anybody who's paying attention.
Notice I'm not calling it a novel — I'm calling it a project.
Because what I have now on my hard drive is not a novel by any stretch.
I'm very glad I participated. There are a lot of things about writing a novel that are pretty intimidating, of course, but one of the biggies is the sheer volume of words required. Starting a novel feels a bit like standing at the foot of an impossibly high, impossibly steep mountain, and wondering how the hell you're ever going to get to the top. And of course, the answer is "one step at a time," but you also know that a lot can go wrong on the way, including spectacular falls from precipitous heights ;-)
Participating in NaNoWriMo forces you to push through that anxiety. And then, 30 or so days later, you're at the top of the mountain and you realize: hey. It really wasn't that hard.
That's the kind of experience that you internalize even if you don't do anything else.
And I've got proof. As I neared the last few thousand words of Dr. Forst, I found myself suddenly thinking of another novel I've drafted, Loose Dog. I like the book, but it needs a major edit. And I've been putting that off because the job seemed so enormous.
Now, all at once, the job doesn't look so huge. I'm excited. I'm going to start working on it as soon as I catch up on a few other non-NaNo responsibilities.
I have some other thoughts on the benefits of NaNoWriMo which I'll share at some point (about 4,500 words' worth! A longish essay :-))
But part of what I also learned is that NaNoing isn't 100 percent compatible with the way I, personally, need to write fiction.
As a result, the output I've generated this month is a bit of a mess.
Now granted, I haven't gone back and read it over, and yes, I know there is probably some decent writing in there, and probably plenty of salvageable bits.
But pushing to get to 50K in 30 days just didn't give me the gestation time I needed to solve certain problems that came up as I wrote.
And these are structural problems. This may be the height of folly, but with Dr. Forst I am trying to combine a golf novel (whatever that is) with a loose retelling of Faust (as you may have guessed from the title) (hey, I know lots of golfers who would do a little deal, wink wink nudge nudge, in exchange for a single digit handicap!) with a lightly satirical whodunnit.
I have no idea if I can pull together such a hodgepodge into a cohesive story.
But I do know that I can't pull it together in a month.
There just wasn't enough time for the bits of my mind that connect things together to discover and bridge the connections.
So instead of a novel, I have a . . . a kind of jackalope.
Or, say: a jackalope so poorly stitched together that it's not going to fool anybody.
I also suspect that the voice/tone of the novel changes in the course of the book — which is partly a symptom of the same issue, but is also a result of the NaNo process. Usually, when I am writing a novel, I go back through what I've already written from time to time. This helps keep the voice consistent. I couldn't afford that luxury with Dr. Forst, and I suspect the book suffers for it.
So will I ever do NaNo again?
Maybe.
But what I really hope I do is to retain the feel of constant production that the NaNoWriMo process instills.
I have my eye on a certain other mountain.
I don't necessarily need to climb it in 30 days.
But I've noticed it looks a lot less steep than it did before . . .